Bought in 2014 by the e-commerce giant for the sum of $ 970 million, Twitch continues to grow and develop its links with the other divisions of its parent company. Integrated into the offer Amazon Premium under the name of Prime gaming, the video streaming service still very oriented Gaming seeks to diversify with new synergies, like this association with the music streaming service Amazon Music. The goal: to disseminate live music and allow artists to interact directly with their fans ...
Twitch and Amazon Music: a judicious association
"More than 1 artists have already connected their accounts […] and this is only the first day. " Ryan Redington, Director ofAmazon Music
Deprived of concerts during the confinement period, many artists have experimented in recent months with new broadcasting techniques, including streaming. The live being the very essence of the profession of musician, the association between Twitch and Amazon Music seems most judicious since it will allow artists to broadcast their concerts, but also to get in touch with their audience like never before.
"Twitch has always been about connecting amazingly talented creators live with fans across the world.", explains Tracy Chan, head of music at Twitch. "This is why we are happy to announce the next phase of our partnership with Amazon Music, which opens up a whole new world of live music experiences and engagements by connecting Twitch and the music catalog available at Amazon Music ".
Ryan Redington, director ofAmazon Music, points out that "The combination of live streaming and on-demand playback of songs on Amazon Music is revolutionary " before specifying that "More than 1 artists have already connected their account […] and this is only the first day". A big success therefore, which augurs a rapid development of the service, Amazon offering a dedicated application named Amazon Music for Artists.
As for customers, they will soon see a new "Live" tab appear in their various Twitch applications and Amazon Music ...
Soon the "live" on Alexa and Fire TV?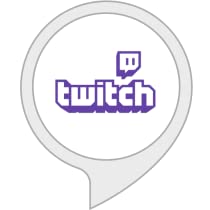 Twitch and Amazon Music being available on Fire TV, we should be able very soon to attend live concerts and fully enjoy them on the big screen, or on our smartdisplays Echo Show. Recently appeared on the US skill store, Twitch has indeed recently been usable with the voice assistant in the United States, so it's a safe bet that the broadcast of lives on Amazon Music will also benefit from integration on devices with screens.
The association between Twitch and Amazon Music therefore seems promising and able to offer us a new way to consume music live while respecting the barrier measures. In addition, and this is probably where the two services innovate the most, artists will now have privileged access to their fans, Amazon Music being the site of fastest growing music streaming with already more than 55 million subscribers ...