Amazon, since its creation in 1996 by Jeff Bezos, has always worked to make the shopping experience as smooth as possible for its customers. Its user interface is proof of this, as it allows easy navigation and quick purchases. She was the one who, a few years ago, invented one-click shopping and many e-commerce companies continue to draw inspiration from its very effective "purchase tunnel". Some find its interface austere, even dated, but it is actually perfectly suited to customer needs ... Well, almost all, which is why the e-commerce giant has just launched Amazon Kids for children.
Amazon Kids: children also have their site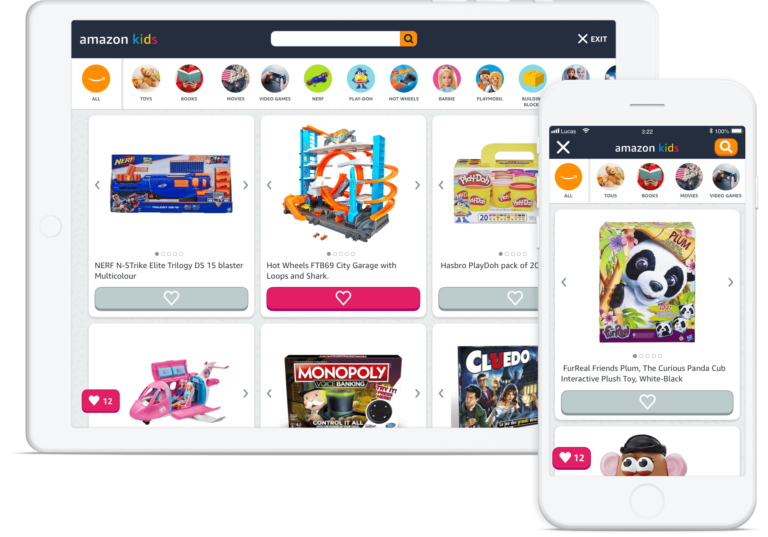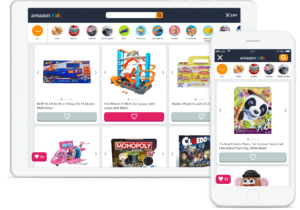 An e-commerce platform is rarely suitable for children. One could even say that none are adapted to the navigation of the youngest. Well, that was before before the new portal created by the world leader in e-commerce: Amazon Kids.
Available in France, this interface gives pride of place to products intended for the youngest by presenting product sheets reduced to their simplest expression: images. No headline, no description, just pictures of articles likely to appeal to our little darlings. Logically, the children not knowing how to read before the age of four or five, and still contenting themselves years later to look at these only illustrations ...
Intended for use with parents, the interface is as clean as possible, presenting large bubbles imagining each category and three large thumbnails per line to present the articles. Each has a "like" button symbolized by a heart, which just allows the child to say what he likes. There is no question, therefore, of letting the children buy their toys on their own, don't worry ...
An easy-to-use platform
Very easy to use and perfectly secure, the platform Amazon Kids is therefore not a place of purchase for children but rather a birthday or Christmas list 2.0. As in a toy catalog, the child looks at the images and locates what he likes, he indicates it by a simple press on the only available button and the articles are automatically added to a dedicated shopping list on the account parental.
If we could already create lists and fill them in ourselves all year round so that we don't have to dig too deep into the date when making the birthday or christmas gifts, we now just have to sort it out and put in our basket what we want - or actually accept - to offer him.
As for the content, it is obviously adapted to each child, Amazon asking you for their date of birth to better define the most appropriate content. When you disconnect, do not worry, your little one will not fall on your account, you will have to enter your password so that he can leave the platform.
In short, this is a pretty fun idea that should easily find some success shortly before Christmas, although it is already
available Amazon. Fr
.