Amazon announced two weeks ago the update of its Fire HD 8 tablet. According to Eric Saarnio, vice-president ofAmazon EU Devices, "The all new Fire HD 8 tablet offers the features every member of the family dreams of: quality content, extended storage capacity, greater battery life, at an incredibly affordable price". If we are still impatiently awaiting its 10-inch version with Alexa, this small touchscreen tablet with a more compact 8-inch format should therefore delight users looking for nomadic entertainment at a low price. Let's see what it's all about.
€99,99
In stock
May 17, 2022 3:51 a.m.
€129,99
In stock
May 17, 2022 3:51 a.m.
Amazon Fire HD 8: small but powerful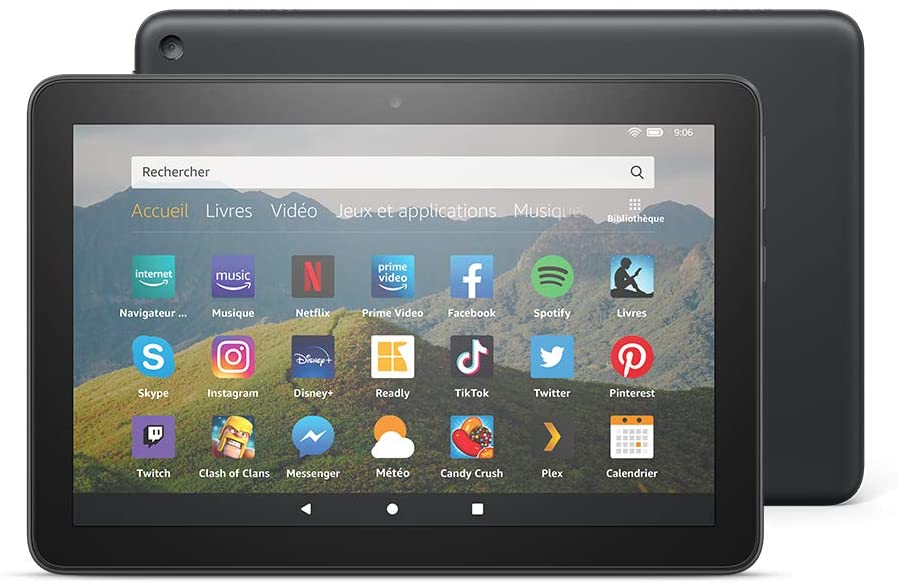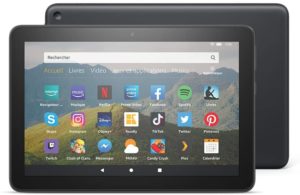 On paper, the news Amazon Fire HD 8 does not revolutionize the genre but nonetheless significantly improves the Fire HD range available in France.
Measuring 202 x 137 x 9,7 mm, the 8 Fire HD 2020 is equipped with two speakers and two 2-megapixel cameras and uses the same 8-inch IPS panel 1 x 280 pixels 189 dpi resolution of the previous generation. Now powered by a processor 2.0 GHz Quad-Core, it has 2 GB RAM allowing him to be 30% faster than before and to support multitasking more comfortably. It will therefore be possible to comfortably watch films and series, play games and surf the Internet, or read Kindle ebooks while listening to music.
Available in two versions offering 32 or 64 GB storage, its capacity is also expandable up to 1 TB via micro-SD allowing you to comfortably store your content which you can now enjoy for 12 hours thanks to a battery that was also improved and now powered by a USB-C port. Amazon specifies that it will take 5 hours to recharge it with the 5W charger supplied and only 3 hours with a 15W model supporting fast charging (not supplied).
Fire HD 8: the inexpensive everyday tablet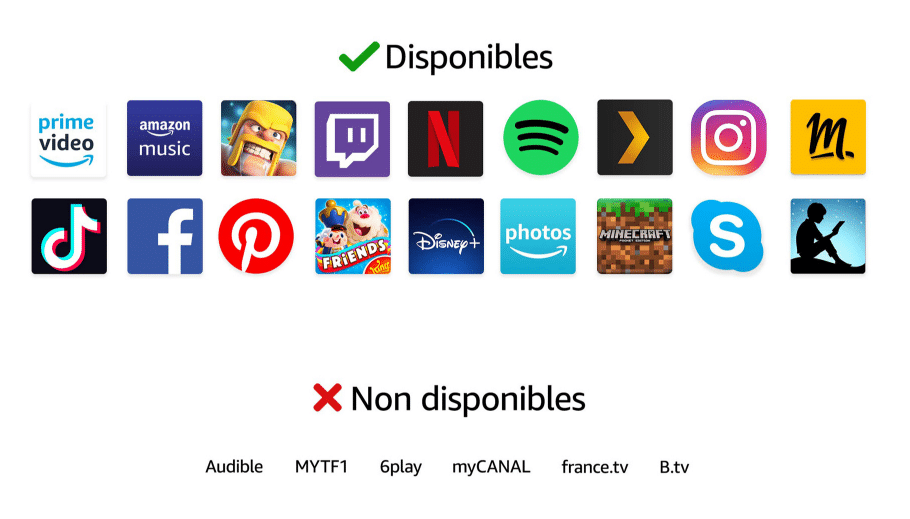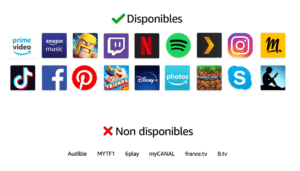 Very entertainment-oriented, the Fire HD 8 tablet fromAmazon allows you to benefit from a unlimited cloud storage of all the content Amazon and the photos taken with the Fire tablets of a large number of applications via theAmazon Appstore, but still not from the Google Playstore for the home operating system Fire OS.
Nevertheless, you will find there thousands of applications, foremost among which are Prime Video, Netflix, Molotov or Disney + for video streaming, Amazon Music and Spotify for music, Facebook and Messenger, TikTok and Instagram, as well as Skype and Zoom communication applications. Surprisingly, Audible is not available although it is a subsidiary ofAmazon, like what…
Designed for everyday life, the Fire HD 8 fromAmazon has been subjected to more than 50 tests simulating drops, spills and other everyday accidents. Its compact and handy format will therefore make it an ideal tablet for children, or for the kitchen or, why not, as a controller for your Home Assistant home automation !
€99,99
In stock
May 17, 2022 3:51 a.m.
€129,99
In stock
May 17, 2022 3:51 a.m.