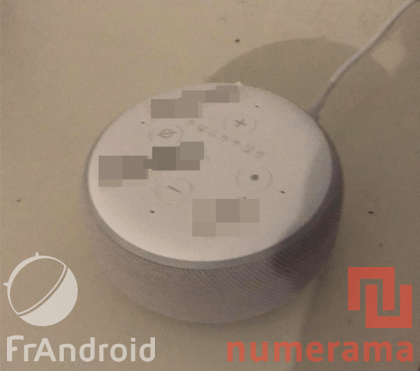 According to excusive information from Numerama et FrAndroid, Amazon is said to be testing the third generation of Echo Dot with its American employees. The two French sites have indeed succeeded in unearthing two presumed photos of the next generation of theentry level smart speakerAmazon. Its code name, "Donut", may make you smile, but it's true that this little connected object is reminiscent of Homer's favorite pastry shop.
For now, no one knows when or at what price this Echo Donut will be marketed, much less whether it will completely replace the 2nd generation Echo Dot. Even smaller in size than its predecessor, this 3rd generation Echo Dot would seem more matched to the rest of the range, as evidenced by its side fabrics which is reminiscent of the 2nd generation Echo. Would the speakers be arranged differently, in order to offer an improved musical experience, or at least to the level of that of the Google Home Mini? It wouldn't be surprising.
In addition, its more rounded design seems more consistent with the rest of the range and in particular Echo Spot which has just been released in France. Its buttons are also clearly reminiscent of the last born in the family Amazon. Finally, as on the previous models, we find a visibly similar circle of light, and microphones distributed around the entire periphery of the alleged peripheral.
Recently contacted by Numerama, Amazon would have declared " comment on neither rumors nor speculations. "
Other source: Excluded - Amazon Echo Dot 3rd gen: images of the "Donut" on board Alexa on FrAndroid
EDIT: the rumor is now confirmed and the device is logically called Echo Dot 3. Presented by Amazon during its Devices Event 2018 with an avalanche of novelties, you can find theAmazon Echo Dot 3 in test here.