This is news that has something to surprise: Amazon donated 8000 Echo Dot 3 to more than 40 retirement communities on the West Coast of the United States. The devices, which allow residents to use voice technology to stay connected during isolation, were donated by Amazon as part of a $ 5 million device donation program created in response to the Covid-19 pandemic.
8 000 Amazon Echo Dot 3 to break against containment isolation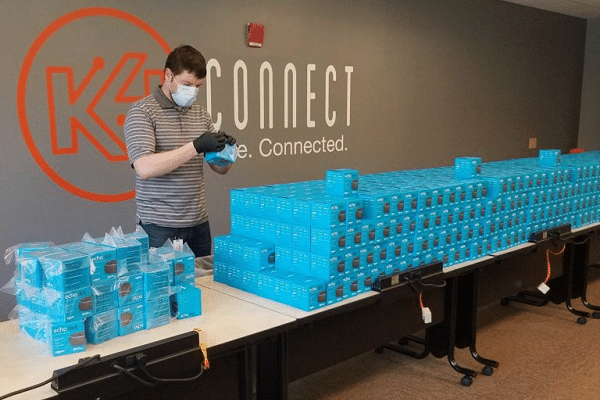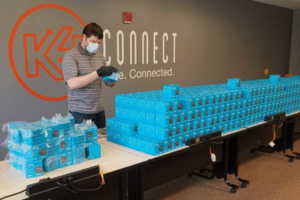 Distributed and prepared by K4Connect, a company specializing in access to technology for the elderly based in Raleigh, North Carolina, the 8 connected speakers byAmazon aim to allow residents to use the voice assistant Alexa and, thanks to it, to stay connected despite the isolation linked to confinement.
While the e-commerce giant has not itself distributed the EchoDot 3is that they needed a little preparation in order to make them immediately operational and usable by the elderly. A role entrusted to the company K4Connect who developed K4Community, a solution providing functionalities for residents and staff of retirement homes.
Following their intervention, Echo devices offer, in addition to all the advantages of voice command Amazon Alexa, access to an online dashboard that allows you to manage activity calendars, menus and announcements for the community. Obviously, residents can also use the device to call their families via Alexa and / or Skype, but also the reception service of their residence.
The president of MBK Senior Living, Jeff Fischer, specifies that he was particularly attracted by "The possibility of carrying out an early check-in to ensure that residents are safe." Although they are all equipped with a pendant or SOS button, it is according to him a " very important feature which increases the safety of [its] residents » allowing them "To call the nursing staff" if they are not near the device. We think in particular of falls and other everyday accidents which very often punctuate the lives of the elderly.
The connected retirement home: home automation to help the elderly
In addition, Jeff Fisher specifies that the assistance ofAlexa is a "A fantastic way to use technology to better serve residents and improve their lives and, ultimately, transforming individual units into smart homes with functionality to turn on lights or adjust the temperature ". A first step towards connected retirement home which does not fail to arouse our interest. Indeed, as users of automation, we know how much connected objects can be practical and facilitating everyday actions.
If 23 of the company's 33 residences are now equipped, the president of MBK Senior Living does not intend to stop there and is already preparing to equip all of its retirement homes. Too often called EHPAD in our country, a term which is so scary as it appeals to the lexicon of the hospital world, it seems high time to take up the question in France. In the era of the connected home, there are indeed many simple and economical solutions capable of bringing comfort to our seniors ...
Not available
August 9, 2022 23:11 a.m.
Not available
August 9, 2022 23:11 a.m.