Announced last September, low consumption mode Amazon Echo is now available in France. While this mode allows, under certain conditions, to significantly reduce the consumption of your speakers Alexa Generation IV, another feature unveiled during theAmazon Devices & Services 2020 has just been deployed in the United States: Alexa Energy Dashboard...
An energy saving mode on Amazon Echo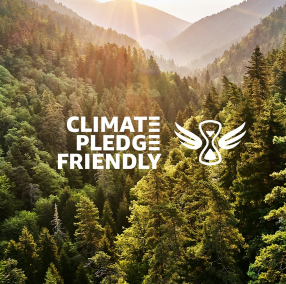 As part of its Climate Pledge program, Amazon announced several flagship measures such as a greener design of its Echo and Fire TV devices, but also more energy-efficient operation with the introduction of a low consumption mode on all new devices. Now available, this mode is activated on its own on fourth generation speakers (list here) and on Third Generation Fire TV Stick when you are not using them.
As announced by Dave Limp, vice president ofAmazon Devices & Services, this low consumption mode should also arrive via OTA updates on the previous ranges, without our knowing when. An interesting feature but which, of course, is not available in certain situations.
Indeed, although we cannot tell you why, this mode is not not available if you are using Spotify. The same applies if you use the integrated ZigBee hub, if your speaker is connected to an external speaker via the auxiliary output, or if a notification is in progress ... How much will it save? energy? Unfortunately, we don't have the answer yet ...
Alexa Energy Dashboard: an electricity consumption dashboard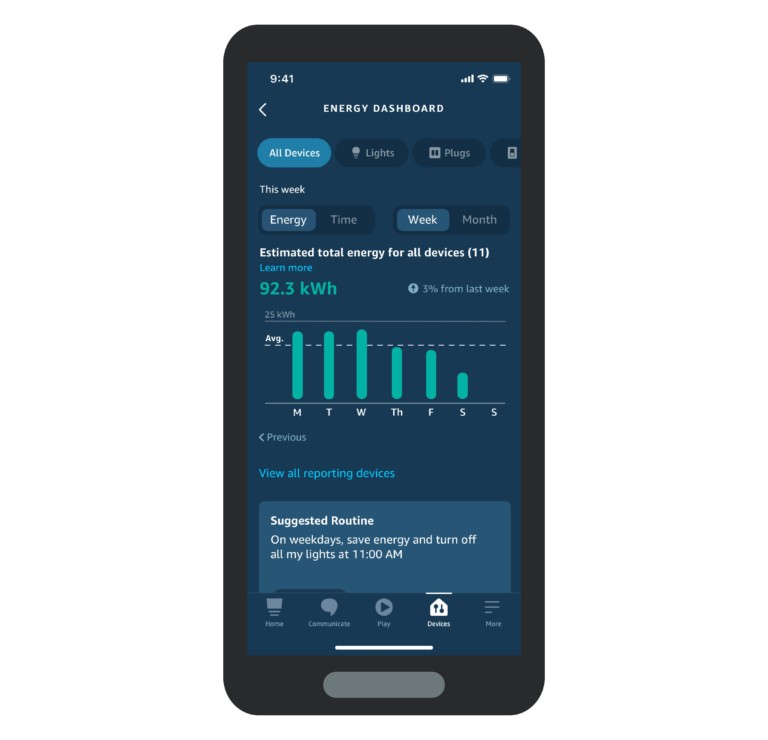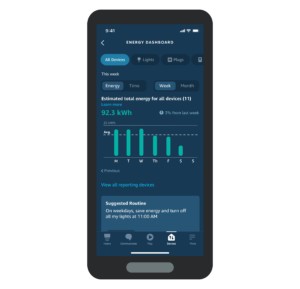 Do not look for it right away in your application, Alexa Energy Dashboard is not yet available in France, and we unfortunately have no date to announce at this time.
Presented by Ben Grossman on the blogAmazonThis energy dashboard allows you to easily monitor and manage the consumption of compatible devices Alexa of course, but not only since you will eventually find your lights, sockets, switches, connected thermostats, Smart TV, or even your water heater!
To do this, it will obviously be necessary for the manufacturers of connected objects to play along and integrate the new API which makes it possible to inform Alexa consumption of devices, and synthesize them in a very complete dashboard where it will be possible to compare trends from one week or one month to another, for all devices as well as for certain types. Your voice assistant can then give you advice and suggest actions easy to set up.
Obviously, not all devices are capable of recording this type of information, but Alexa is also able to estimate them. Amazon said to work with Phillips, Hisense, Tuya, LIFX, Sengled or even eWelink on the subject. As for thermostats, Honeywell and Emerson will soon allow their customers to have their customers calculate Alexa their heating or air conditioning consumption taking into account the area of ​​the accommodation, changes of state, etc ...
Where all this will become even more interesting is that it will eventually be possible to use a new feature called Alexa Hunches allowing the voice assistant to be proactive. As Rohit Prasad had announced during his presentation of the new products Alexa 2021, the assistant ofAmazon will soon be able to adjust your thermostat if it detects that the temperature is too high, turn off the lights for you if you forgot to do so when leaving your home, and much more ...
39,99€
59,99€
In stock
August 10, 2022 11:44 a.m.
88,99€
99,99€
In stock
August 10, 2022 11:44 a.m.
249,99€
In stock
August 10, 2022 11:44 a.m.