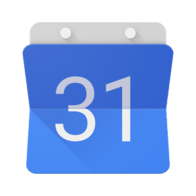 This is THE big news of the day! Many of you have been waiting for him since the arrival ofAlexa in French and the release of the first two range devices Amazon Echo, and logically enough, we had to wait for the release of Echo Spot to finally enjoy it: the schedule or management by Alexa from your personal agenda.
If the new users ofAlexa did not spare customer service on this subject, it is good form to note that this "novelty" will only have taken 5 weeks to reach the star voice assistant of the moment. No need to rush into your applications and try updates, we remind you that these features are installed in the cloud, in other words on the servers ofAmazon, and that their deployment to all users of artificial intelligence will necessarily take a few days.
To make you wait, the writing of Les Echos d 'Alexa has therefore decided to concoct you a quick tutorial.
Synchronize your calendar on the application Alexa
You might as well reassure yourself, use your calendar - or diary, it's up to you - on Amazon Echo does not have to complicate much. It is even surprisingly easy. The only point that may be a little confusing is the location of the functionality within the application. We have seen better ergonomics question, but regardless, the teams ofAmazon Alexa will probably see it again shortly. Isn't the main thing that this feature is finally available?
Anyway, you can synchronize and use your diaries and calendars from from multiple sources :
Gmail and Google G Suite
Microsoft Office 365 and Outlook.com
Apple iCloud
Unfortunately, it is still impossible to ask Alexa register your appointments by voice, but fear not, this feature will be available in the coming weeks and, to believe the beta testers, it works perfectly well. We will be sure to notify you as soon as this option appears.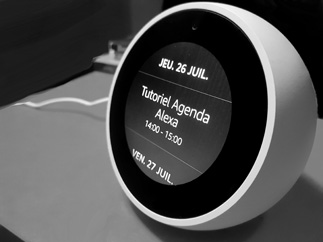 The commands to use the calendar by voice
Here are main commands for using the calendar with Alexa :
Add [event] to my calendar on [day] at [time]
Add an event to my calendar
What time will the sun rise on [date]?
How many years have it been since [1984]?
How many days until / at [date]
How many days until vacation?
Create a new appointment
What's on the agenda?
What's on my calendar?
What's on my calendar [this week]
When is [the spring equinox]?
When is the next full moon?
When does the time change take place?
What is the first day of [season]?
What is my next meeting?
Echo Spot and Echo Show: the extra screen to take full advantage of your agenda
As we mentioned during its official release, Echo Spot is perfect on your bedside table as an alarm clock or as a desk clock. It is in fact on devices equipped with a screen that consulting the agenda becomes a real pleasure and a daily help thanks to the silent notifications. The editorial staff is also literally a fan of this Echo Spot and its ease of usenot. While waiting for his big brother Echo Show whose release in France is scheduled for the end of the year, it is the useful weapon of ministerial agendas and geek offices!