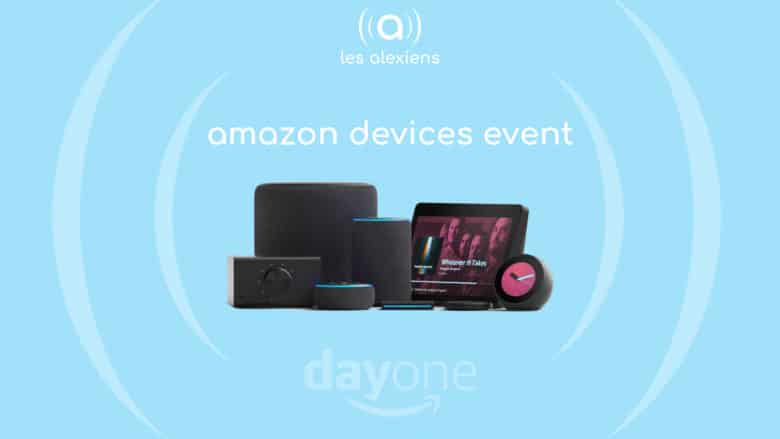 Today took place the great mass of the Alexians, theAmazon Devices Event, that you were able to follow live thanks to your favorite site! As every year in September, the Seattle firm organized its annual event dedicated to Echo devices or compatible with Alexa. After one avalanche of news unleashed from New York last yearIs a new wave from the Seattle Spheres that we wiped out tonight. It's difficult for us to put everything back in order at the moment, but here are the main new features announced today for you.
Echo Buds: headphones Alexa designed in partnership with Bose
They were expected at the turn, here they are: Echo Buds wireless headphonesAmazon. Many times advertised as pale copies of the famous Apple AirPods, Amazon did not take its customers for pears and today offers them a very successful product carried out hand in hand with the sound specialist: Angry.
Compatible Alexa, of course, they will also work with Crab et Google Assistant. Amazon therefore strikes a big blow and seems resolutely determined to impose itself on the headphone market " true wireless". A booming market on which the Seattle firm was slow to try, but mature enough today to deserve a Premium product that will undoubtedly find its audience.
The Amazon Echo Buds, wireless headphones with a Bose sound profile, are clearly AirPods-killers and promise us the best for a more than aggressive price of 129 €. Unfortunately, no date has yet been put forward regarding their release in France. However, no technological brake seems to prevent their rapid commercialization and we are hopeful that we will be able to present them to you for testing very soon.
We stay in "Wearable", understand them objects connected to Alexa that you can wear everyday. If the Fitbit Versa 2 figure of "Must have" in the matter, Amazon goes even further by offering a ring today! Forget diamonds or rubies, here the precious stone is none other than our dear Alexa!
In short, Echo Loop presents itself as a ring intended to be carried by hand. A ring, more than solitary signet ring, whose jewel will be none other than your favorite vocal assistant: Amazon Alexa. How about Echo Ring? Perhaps to avoid confusion with Alexa Bliss ...
In short, a product not really ready, it must be admitted, but which remains in the philosophy Amazonienne of "Always Day One". Like the Echo Frames glasses, a product not quite ready for mass marketing, according to David Limp, but still marketed in the United States to test the market and show some muscle. Amazon does not hide its ambitions and is resolutely determined to kick in the anthill. Understand: "Just look what we can! ".
Concretely, this compatible connected ring Alexa allows you to activate the default voice assistant of your smartphone and is therefore not autonomous, but can like the Echo buds serve to activate our friends Crab et Google Assistant.
Part of the "Day One" program, Echo Loop is restricted to the US market and available in limited quantities at $ 179,99 with presales at $ 129,99.
Echo Flex: Alexa everywhere at home
It's a bit like the device that came out of nowhere tonight. David Limp briefly touched on the many users who 3D print supports for Echo Dot 3, judging that it was necessary to offer them a solution and that this new Echo Flex was a response to EchoDot 2 ou EchoDot 3 placed on supports of more or less good quality.
Roughly resembling a connected outlet, Echo Flex is however much more than that since it integrates two USB-A ports to recharge your peripherals (7.5 W), a small loudspeaker for audio returns ofAlexa (be careful, it is clearly not made for listening to music), and a 3.5 mm jack type stereo audio output (cable not supplied) which makes it particularly interesting.
It will also be possible to add two optional products: one presence detector, PIR type, or a smart night light with integrated sensor… Third Reality branded devices which will be attached to the bottom of Echo Flex and both sold 14.99 €
Update: September 28, 2022 22 h 06 min
Echo Dot 3: now with a clock
This is one of the biggest surprises of the day ... EchoDot 3 which has enabled and continues to enable Amazon to enter the market with a small enclosure at a more than affordable price, especially since it is chronically in promotion, is seen in a sort of "Clock" version with theaddition of a discreet LCD screen displaying the time! Placed under its braided fabric surface, it already seems to appeal to a number of Alexians. Indeed, it allows you to display information such as temperature, alarm times or timers. Smart!
From there to saying that it will replace many clock radios, there is only one step. Less expensive and easier to adopt than « smart display " such as Echo Show 5, this small enclosure embedding Alexa retains all of its sound qualities and now discreetly displays the time around its perimeter. Better yet, you can also monitor the temperature there.
Update: September 28, 2022 22 h 06 min
Echo 3: new 3rd generation opus
As we announced to you last week, the Echo speaker has undergone a significant overhaul, enough to forget his illustrious predecessor, echo 2, on which many of us have cut our teeth. Emblematic device of beta testers, our poor Echo 2 may well be relegated to the rank of museum piece!
Indeed, Amazon do not go four ways and do not be afraid to say loud and clear that the third generation Echo is as well endowed as its elder Echo Plus 2. In other words, echo 3 today has the same sound qualities as Echo Plus! Richer sound
Update: September 28, 2022 22 h 06 min
Echo Studio: high-fidelity sound for Alexa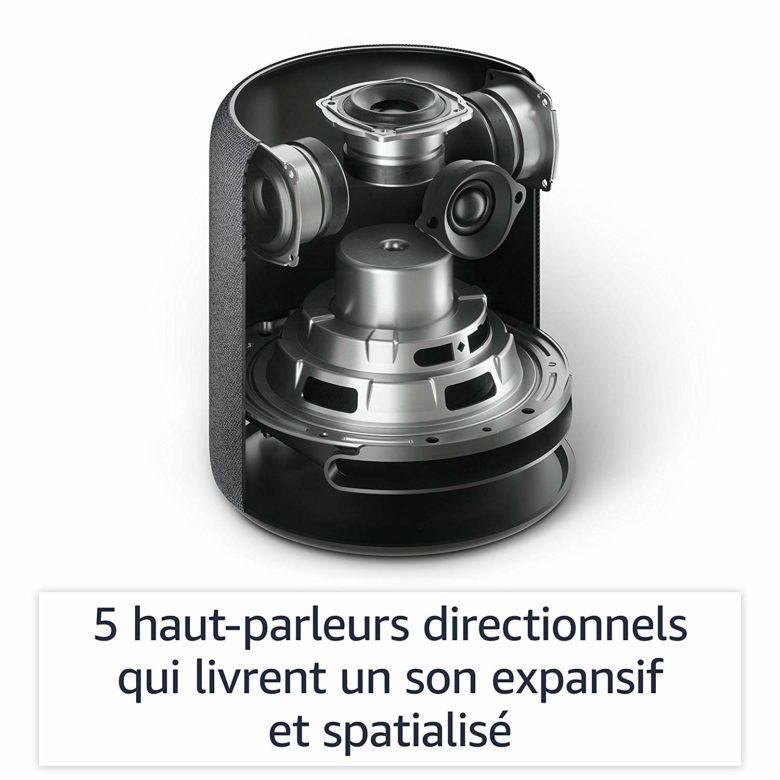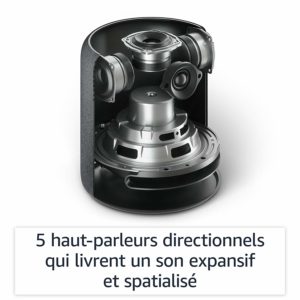 The recent announcement of a offers Amazon HD Music left little doubt about the intentions of the parent company ofAlexa to suggest a high-end speaker to take full advantage of high-definition music. Amazon therefore offers a Echo Studio, which has positioned itself as a top-of-the-range echo devices.
Strategically positioned, the speakers generate room-filling sound, sending different parts of the track into your ears from different directions. Music as desired by the artist, both immersive and expansive, supported by the Dolby Atmos technology. Compatible with new devices Fire TV Stick et Fire TV Stick 4K, this device is the new spearhead of the Echo range.
€149,99
€199,99
In stock
September 28, 2022 22 h 06 min
Update: September 28, 2022 22 h 06 min
Echo Show 8: a third smart display for Alexa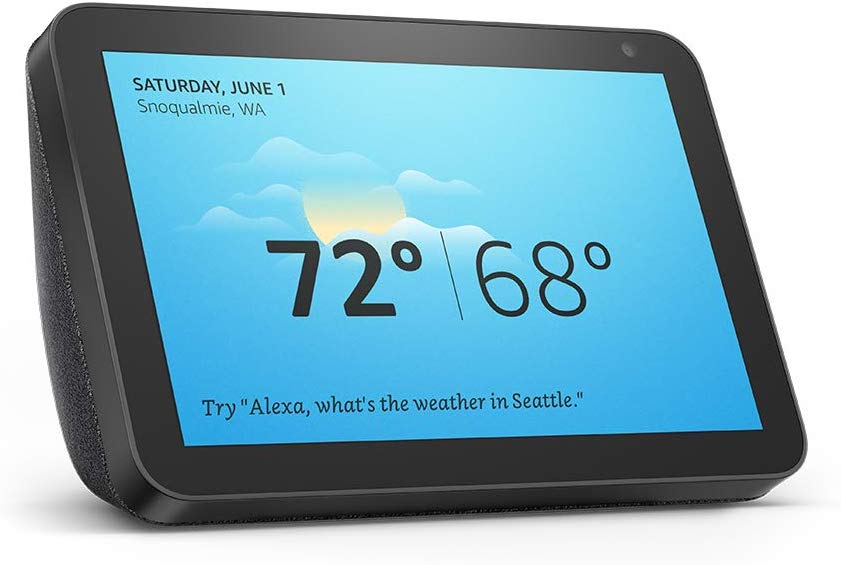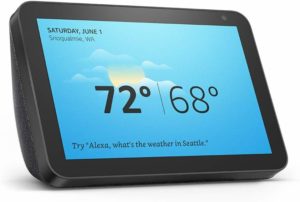 We keep saying it, we believe a lot in the development of « smart displays'. These speakers equipped with a screen indeed bring a much richer experience to the use of voice assistants. The concept, invented by Amazon with its Echo Show range, is on the way to impose itself and the Seattle firm has understood this well, since following the success ofEcho Show 2, she offered us a small format called Echo Show 5 in June. The e-commerce giant is renewing the experience by positioning a third screen device within its range: Echo Show 8.
Equipped with 8 inch screen a resolution of 1290 x 800p, this new smart display offers the same characteristics as its predecessors and in particular a cover for its 1 MP camera as appeared this year on the Small Model Show. Also endowed with two speakers of 2 inches developing 2 x 10W, that is to say as much as its elder Echo Show 2. A sound which promises to be powerful and rich.
Will it ever be available in France? Chances are good, but Amazon has not yet announced any date for its availability in Europe. The Alexiens will not fail to follow the file and inform you of its availability.
€69,99
€109,99
In stock
September 28, 2022 22 h 06 min
Update: September 28, 2022 22 h 06 min
Amazon Smart Oven: the microwave Alexa
And here is theAmazon Smart Owen, a combination of microwave, convection oven, deep fryer and plate warmer that you can control with your voice usingcompatible devices Alexa.
Just ask Alexa to cook common foods using dozens of presets carefully tested and adjusted by teams atAmazon. Since then, Alexa will tell you when to stir food during cooking and let you know when it is ready. Just that!
Will it ever be available in France? Nothing is less sure. Like the model presented last year, this microwave Alexa is currently only dedicated to the American market… 'What a pity!' our British neighbors would say soberly!