We had already told you about Alexa Blueprints, the platform ofAmazon allowing anyone, without the slightest notion of code, to easily create skills Alexa… Only available in English and German until now, the platform has just been announced in the language of Molière! Let's see what it's all about ...
Blueprints: create your skills Alexa in a few minutes !
Amazon just unveiled its long-awaited platform Alexa Skills Blueprints France, a way to quickly and easily create your own Alexa cv and personalized responses for your voice assistant and appliances Amazon Echo or compatible Alexa.
Thanks to a set of easy to use templates, anyone can now create tailor-made experiences for Alexa very simply, in a few minutes, just by completing a few boxes. Whether it's your own answer to the question « Alexa, who is the best mom in the world? " or a skill to plan and track household chores, « Alexa, launch Table of tasks », Skills BlueprintsAlexa let you create personalized experiences for you and your family with just a few clicks. Many models are in fact designed and specially designed for family needs. And, of course, these skills will not be public but will only appear on devices registered to your account Amazon.
"The Skills Blueprints ofAlexa let you create personalized experiences for you and your family with just a few clicks. " The Alexians
How to use Alexa Blueprints in French?
For easily create skills Alexa for Amazon Echo, nothing could be simpler, just follow these three steps:
Select your Blueprint template by going to the site Alexa Skills Blueprints:

blueprints.amazon. Fr

. You can view more than 12 Skill Blueprints distributed according to four categories : "Home", "Games and Entertainment", "Communities and Organizations" and "Learning and Knowledge".
Let your creativity run free. Each Alexa Blueprint has a pre-populated content that can be used as is or customized as you wish.
With just one click your skill will be available on all compatible devices Alexa associated with your account Amazon.
Create as many Skills as you want. If you want to add even more inspiring quotes to the "Inspirations" skill, it's as easy as pie, just make the changes on the site ofAlexa Skill Blueprints.
Alexa Blueprints: many models available

Skills Blueprints Alexa available at launch include:
"Home" skills:



Personalized questions and answers: customize the response ofAlexa to your questions
Guests: welcome your guests by introducing them to your home or neighborhood
How many days : indicate an important date at Alexa and she will count the days until the event
Choose the tour: determine who should take on a task by asking Alexa to choose for you
Table of tasks: plan and track weekly household chores.
Skills "Games and entertainment":



Inspirations: create a list of quotes that inspire you
Mockery: tease your friends and family with sweet teasing
Compliments: flatter your loved ones with a list of personalized compliments
What to do : make decisions easily and in a good mood by asking Alexa.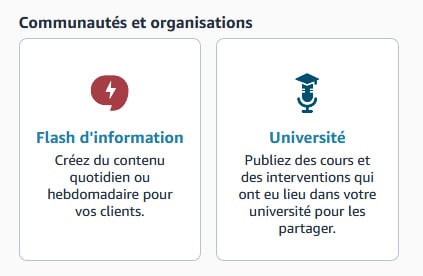 Communities and organizations:



Information Flash: create daily or weekly content for your customers
University: post lectures and lectures that have taken place in your university to share them.
Learning and knowledge:
Revision sheets: review, test your knowledge and master any subject by practicing orally.