At Les Alexiens, robot vacuum cleaners, that knows us! It must be said that they are particularly practical on a daily basis and have established themselves in our connected homes. Today, it is a brand still little known that it is about, and in particular its very last top-of-the-range model: the new 360 S10.
Behind this brand is the company Qihoo 360 Technology Co. known for its antivirus (360 Safeguard, 360 SAFE Mobile), its browser (360 Browsers), but also its smartphones and surveillance cameras. For some time, the brand has diversified by offering household robots such as the very successful 360 S6 and S7, and which like Xiaomi, mainly relies on e-commerce platforms such as Geekbuying to market them.
Currently being tested in our lab ', this 2-in-1 robot seductive brings some surprising and promising innovations. Let's see what the brand has in store for us while we wait for our full opinion to come very soon ...
360 S10: a new generation triple Lidar
The first thing that surprises, when we discover this robot, is undoubtedly the disappearance of the very widespread turret housing the LDS. And yet, the 360 ​​S10 does have a LiDAR… And even a triple! Indeed, it is not a camera that can be seen on the top of the device, but a laser detection system fully integrated into the body of the device which will allow mapping even more precise than before. and even in 3D!
What is the interest of this integrated triple Lidar?
The most obvious is of course its size. Without turret, the 360 ​​S10 robot vacuum cleaner is only 8.5 cm high. It is two centimeters shorter than the average of its competitors and this allows it to go much easier under furniture and sofas usually too low for LDS robots.
Another interesting argument is its protection behind the bumpers. Placed at the heart of the device, LiDAR is protected from shocks and 360 boasts a service life multiplied by three ! We will see in use, but the demonstration holds when we know that it is very often the latter who gives up the ghost first ...
This new LiDAR is based on a dToF technology, or direct flight time in French, 4 times more efficient than the now traditional LDS.
360 S10 vacuum robot: the promise of efficient cleaning at a competitive price
Equipped with triple lidar revolutionary, the robot 360 S10 is based on an algorithm of SLAM mapping and an artificial intelligence allowing it to make a precise plan of your accommodation directly and therefore to know precisely where it is located. Better yet, the latter is able to store up to seven different plans in his memory, but also to set prohibited areas.
Equipped with the now classics infrared sensors allowing modern robots to avoid falls and collisions, this vacuum robot offers one of the most powerful aspirations on the market with up to 3300 Pa (the average is around 2300 Pa currently) without making too much noise since it is announced at 67 dB in max mode. It also offers a silent mode at 600 Pa, a Standard mode at 1000 Pa and a powerful mode at 1500 Pa which should suffice most of the time.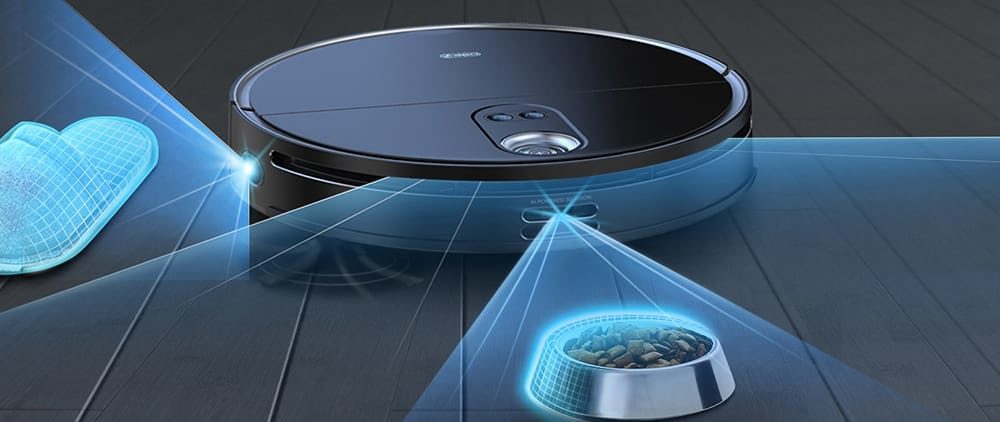 Boarding a 5000 mAh battery, the 360 ​​S10 promises 180 minutes of autonomy allowing you to cover large areas by performing both powerful suction and efficient washing since this 2-in-1 robot is also able to mop with its important 520 mL reservoir.
Finally, the last feature that will not fail to attract your full attention: this robot is compatible Amazon Alexa and Google Assistant. We will also make sure to test it with our voice assistants to see if it provides innovative features.
The 360 ​​S10 in video
The best evidence is, very often, to see the robot at work and you will see below that the 360 S10 is a fairly impressive agility, able to move between different objects without difficulty and without hitting them!