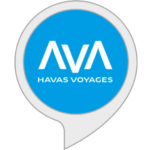 At the time when the 1st Alexiens, Alexiennes are preparing their suitcases for the July departures, it is not yet too late, if you have not chosen a destination for your vacation, to take care of it. And the latest sightseeing skill outing will help you ... whatever.
The Alexiens also have nothing planned to leave and jump at the opportunity to test this skill in search of a proposal. But with a destination in mind anyway… But let's see that in more detail.
After activating the Hava Voyages skill, and launching the program, if you have an Echo Spot, Echo Show 2 or Echo Show 5, Alexa will display on your screen the proposals that it tells you. We will say that the introduction offers us either the States or Asia… but voila, The Alexians, love Canada… So to the proposed destination we answer: Canada. Then unroll a choice of places at our convenience: sea or mountain ... No luck, we want the countryside! Alexa … Or Havas, we have a choice: sea or mountain. Never mind, we confirm: campaign. Then other choices are offered to you: relaxation or activity, in town or in the countryside, etc ... And at the end of the question Alexa / Havas, offers us as a destination: Colombia! Ah yes… But no! We said Canada !!! And now we suggest you get in touch with an advisor to finalize your trip. After a second attempt, fewer questions and a more direct proposal to put in touch with an advisor.
Well, it's a bad start to go spend some time this summer with our cousins ​​across the Atlantic.
Note: 1/5 to the merit of existing - can only improve - absolutely not finalized. Inconsistency of the questions asked following the previous answers.